Provisions on Wolfs Lane is the sweet stop with cookies, cakes and a friendly staff
By Delia Lavallee , Staff Reporter|March 19, 2019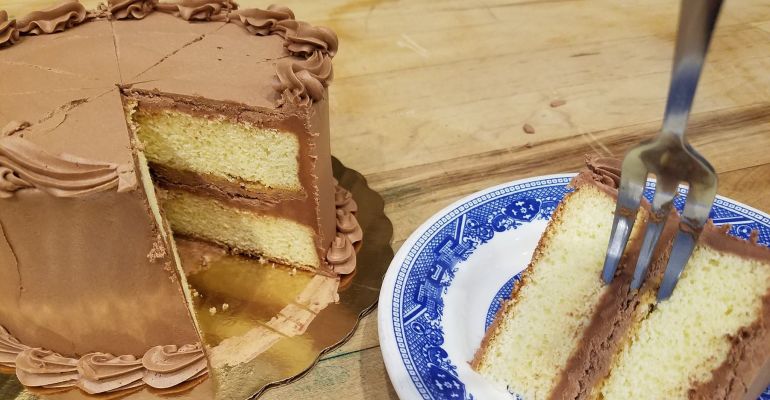 On a walk down Wolfs Lane, it's hard to miss the storefront with beautiful cookies in the window. The aroma of cakes and cookies pulls in shoppers, and inside, the warm scent of sugar and vanilla wafts around the shop. Assortments of cookies, cakes and cupcakes are on display. Vanilla cupcakes. Chocolate chip cookies. You get hungry just looking at them.
Victoria Coverdale, the person who is often decorating cakes when customers walk in, is the owner of Provisions. Provisions opened in 2001, but Coverdale took over five years ago.
Coverdale didn't grow up knowing exactly what she wanted to do. She went to culinary school to cook meals, but got into baking instead because she really enjoyed the creative aspect of it. She said her favorite things to do are the decorations on cakes and coming up with creative ideas for what the cakes will look like. Anyone who's ever bought a cake from Provisions knows the cakes are amazing. Coverdale really puts a lot of heart into them. They are delicious.
Provisions makes many things, including cookies, cakes and cupcakes. The biggest sellers are the chocolate chip cookies and the homemade pop tarts. The store also bakes custom cakes. The typical-sized cakes usually take a few hours to make, the larger ones a few days.
Coverdale said she wants people to see her business as family friendly and fun. While parents place orders, younger children can look at picture books.
When people come in, they usually feel comfortable. The shop is a nice, quiet place to be.
Provisions is a great spot to go to for all sorts of sweet treats. Customers stay and eat there or grab something on the go. The people who work there are always friendly and happy to help you.